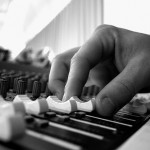 Clear Sound Atlanta was launched to remedy a common problem many local musicians face during live performances — poor sound quality.
Achieving clear sound is a science that requires quality sound equipment and an experienced sound professional.
It's time to switch to Clear Sound Atlanta if during sound check, or during a live performance you experience any of the following:
A musician isn't playing in time or looks lost.
The house mix doesn't sound right.
Musicians are signaling they need more volume or "more me" in their mix.
Clear Sound Atlanta was originally founded to support live music performances. CSA provides sound reinforcement for small jazz bands and acoustical groups to larger funk, rock, and R&B ensembles.
CSA has an extensive inventory of sound equipment and a team of service-oriented sound technicians who are professionally trained to deliver high quality sound.
Contact us today for additional information about our sound reinforcement services.

VIEW PACKAGES